Życie to nie tylko żmudna praca
Wprowadzamy nowe narzędzia, które pomogą Ci skupić się na tym, co najważniejsze
---
Szybciej znajdź to, czego szukasz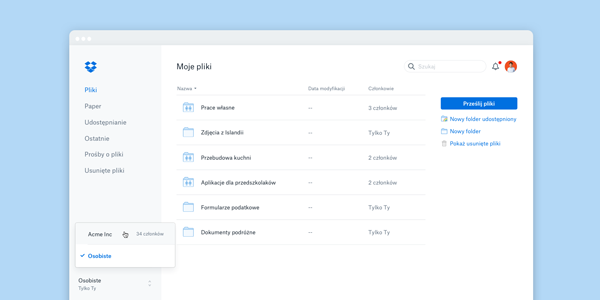 Według niedawnego raportu firmy McKinsey współcześni pracownicy spędzają 61% czasu zarządzając pracą, zamiast ją wykonywać. To szaleństwo. Dlatego ciężko pracowaliśmy nad zmianą witryny Dropbox. W nadchodzących miesiącach będziemy wprowadzać uproszczony interfejs Dropbox, dzięki któremu nawigacja będzie bardzo prosta – mniej czasu spędzisz na przewijaniu dokumentów, a więcej na genialnej twórczości.
---
Twórz jeszcze lepsze i śmielsze koncepcje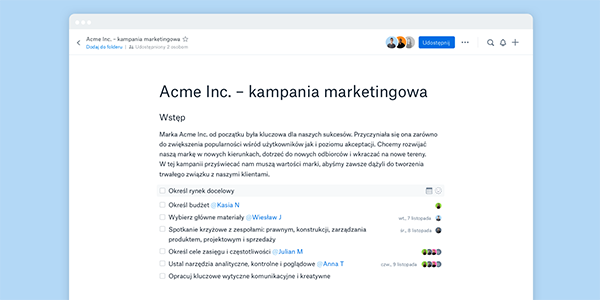 To nie tylko dokumenty – Dropbox Paper to elastyczne miejsce pracy, w którym spotykają się ludzie i koncepcje. Dzisiaj Paper wyszedł z wersji beta i jest dostępny w przeglądarce w 21 językach. Dowiedz się, jak Paper może Ci pomóc na każdym etapie Twojego projektu.
Zarejestruj się za darmo
---
Zobacz, kto przeglądał Twoje pliki i kiedy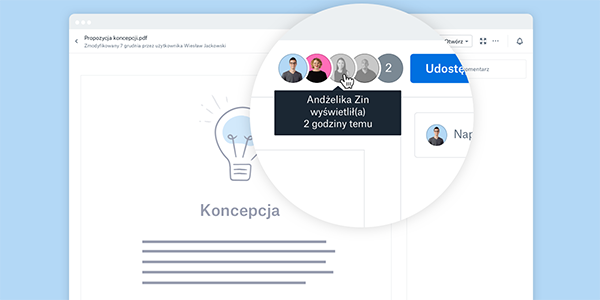 Chcesz zobaczyć, co dzieje się z Twoim plikiem, gdy go udostępnisz swojemu zespołowi? Poznaj naszą nową funkcję – informacje o wyświetlającym, teraz dostępną we wcześniejszym dostępie dla zespołów Dropbox Business.
Dowiedz się więcej