Hi
Welcome, I am really glad you joined the Forex Income Boss!
Over the days and weeks to come I will be sending you many things, completely gratis. Things that I am confident will help you make a lot more money trading.
It may be a lesson, a good indicator or even a system that I have found to work well.
Could be a recent discovery that I feel will help you be more profitable.
As you know, I am always working to improve my trading in two ways…
To make more money.
To make trading easier and take less time.
That's because those are the two reasons we trade. To make a big income and to have freedom to do what we want, when we want.
Just know I will only send you things I would use myself. Things that are tested and proven to work. You will get no spam from me. I hate it.
So keep an eye on your inbox.
Housekeeping: The Battle For Your Inbox Attention
You'll be receiving emails from me when I have something to share with you. I know you get lot of emails. Some of them get your attention. But most don't.
I need your attention! Because I will only send you things you will want to know about!
Some email providers require you to create a filter in your email client so that two things happen.
1. So that emails I send you will never be "filtered" into your spam folder, ever (important).
2. So that emails I send you are highlighted in some way, or marked as important (optional, but recommended).
If you use Gmail, here's how to do that:
Settings > Filters > Create a New Filter >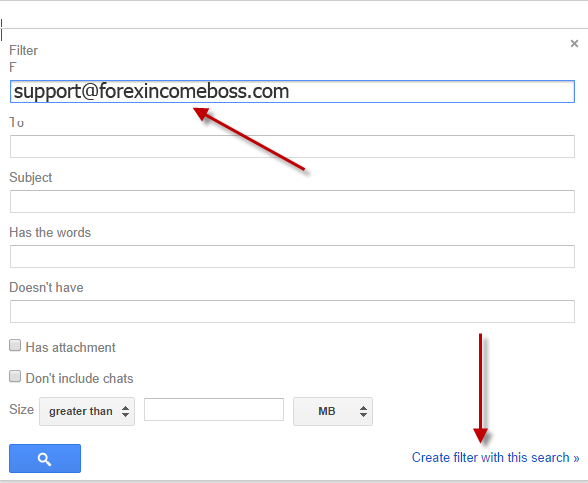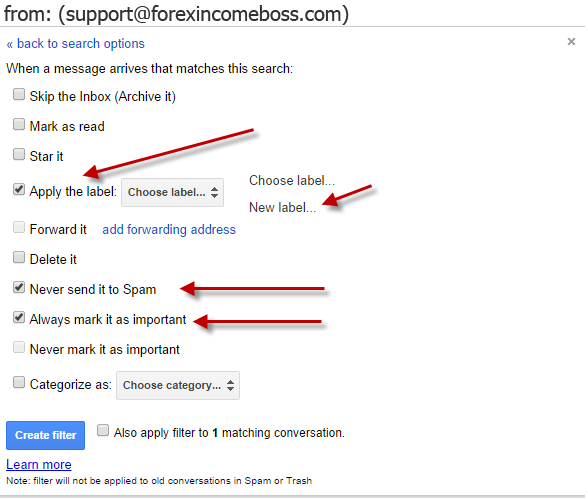 However, you do it, just make sure my emails are prioritized in your inbox. If you don't, you are going to miss out on some of the best, most profitable, actionable Forex strategies you will ever see. Regards, Russ Horn
=================================
Information, charts or examples contained in this email is for illustration and educational purposes only. It should not be considered as advice or an endorsement to purchase or sell any security or financial instrument. We do not and cannot give any kind of financial advice. No employee or persons associated with us is registered or authorized to give financial advice. We do not trade on anyone's behalf, and we do not recommend or receive any payments from any broker. On certain occasions, we have a material link to the product or service mentioned in the email. This may be in the form of compensation or remuneration.
=================================
First name -
Your email - deleted@email-fake.pp.ua
Date you signed up - May 22, 2015
The IP address you used - 203.106.158.212
You can manage your subscription details below: